Starting your own property management company isn't easy. On top of the initial investment of the rental property itself, being a landlord in Toronto comes with a long list of responsibilities. We've all heard about the tenant who complains constantly, doesn't pay rent on time, or causes damage to your property which results in costly repairs and a long turnover period between leases. After experiencing a tenancy like this, it's not hard to imagine why several landlords start viewing tenants as nuisances instead of customers.
Like any business relationship, a good connection should be established between both parties at the beginning of the lease. As mentioned in our previous blog post, selecting the right tenant can mean a world of difference. There are many tenants who are eager to find a rental space that they can call home, not just a unit where they hang their hats. These are the ones who not only respect your property and treat it as their own, they are courteous of their neighbours and keep an open line of communication with you.
Although a selective application process can help find quality tenants, there are other ways to contribute to a strong and long lasting tenant/landlord relationship. As a landlord, it is your responsibility to keep your property well-maintained. In addition to general wear and tear, and appliance repairs, landlords must pay attention to emergency situations.
This table, provided by the CMHC lists repairs that fall under the landlord's responsibility. This can help you differentiate between situations that require your immediate attention, from those which can be addressed during regular business hours.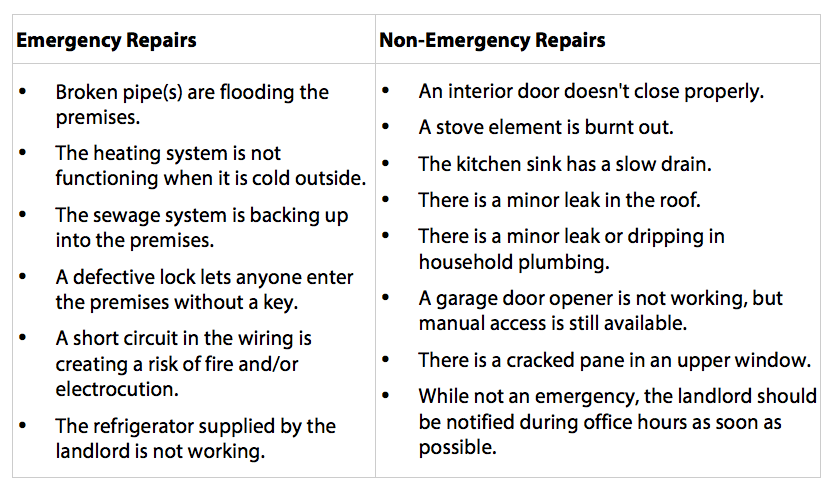 From cracks in window panes to defective heating systems, landlords should be proactive in addressing any property repairs. Keeping your rental property well-maintained plays a major role in a healthy landlord/tenant relationship. Building strong connections with your tenants comes with several benefits including fewer property repairs, ongoing lease renewals, rent increases upon lease completion and great referrals. Regular maintenance and responding to repair requests in a timely manner will not only keep your tenants happy, it also ensures you get the most your of your investment. With a well maintained property comes quality tenants – both of which are a landlord's most valuable assets.