Toronto Condo Inventory Pileup? Not quite
What do cooler nights, Canada's largest annual community event, The Canadian National exhibition and slowing housing sales all have in common? They are friendly reminders that summer is coming to an end. Maybe not the last one — not in the GTA at least.
Although the short season is winding down, the Toronto real estate market remains hot and it is expected that housing prices in one of Canada's strongest markets will continue to increase for the rest of year. Supply for homes, particularly low-rise residential units is scarce in the city, unable to meet demand. This stark imbalance has caused the prices of homes to skyrocket to record numbers over the past year, making affordability for the average Torontonian further out of reach.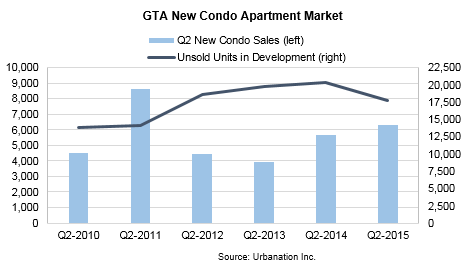 The condo market, however, is benefiting from low-rise scarcity as well as low-interest rates. Despite data released by the CMHC in the first quarter, stating the number of unsold Toronto condos was at a 21-year high, sales of high-rise units have actually increased significantly and as a whole in Toronto, have been very strong this year. The "pileup" of unsold inventory, which is a key factor in determining the health of the condo market, dropped 13 per cent in Q2 of 2015, in a year-over-year comparison according to a survey released last week by Urbanation, a condo research and development firm.
If you're considering purchasing a condo, now's the time to do it. Between baby boomers looking to downsize, and young professionals purchasing a less costly alternative to a house, Toronto condos are being snatched up – and quickly. Although the prices of condominiums have not faced the drastic spike in price as detached homes have, they will inevitably increase — as will mortgage rates. In Urbanation's survey, it was also reported that prices for resale condos were up 6.8 per cent across the GTA in the second quarter, to an average of $453 per square foot, as sales spiked 21 per cent. Bidding wars have even started to affect condos, as larger units are becoming highly coveted among families and those interested in long-term ownership. The better supplied new condo sector, however, saw more moderate price increases of 2 per cent during the quarter, pushing the average price to $566 per square foot.
Owning real estate will remain one of the best investments you can make. Whether it's a low-rise nest-egg or high-rise real estate investment unit with continual positive cash flow, the sooner you enter the marketplace, the sooner you benefit from the low mortgage rates, as well as the inevitable rise in housing prices.
Opinions will vary, and each individual is entitled to his or her own, however, when it comes to housing one has to consider the following: The health of a real estate market is closely related to local demographic and immigration needs.