In an announcement made by Toronto Real Estate Board President Mark McLean last week, GTA REALTORS® reported 7,385 home sales through TREB's MLS® System in November 2015 – a 14 per cent increase compared to November 2014 and a record number for November sales to date.
Toronto's real estate market saw 96,401 sales for the first eleven months of this year. There is no doubt that 2015 will go down in history as a year Toronto real estate made the record books. High housing prices, the number of homes sold, and benchmark indexes as well as a low number of active listings, average days on market and the amount of square footage you get for a dollar–not to mention the value of the Canadian Dollar itself. However, as the year winds down, people are turning their focus away from the red-hot real estate market and putting themselves in gear for the holiday season.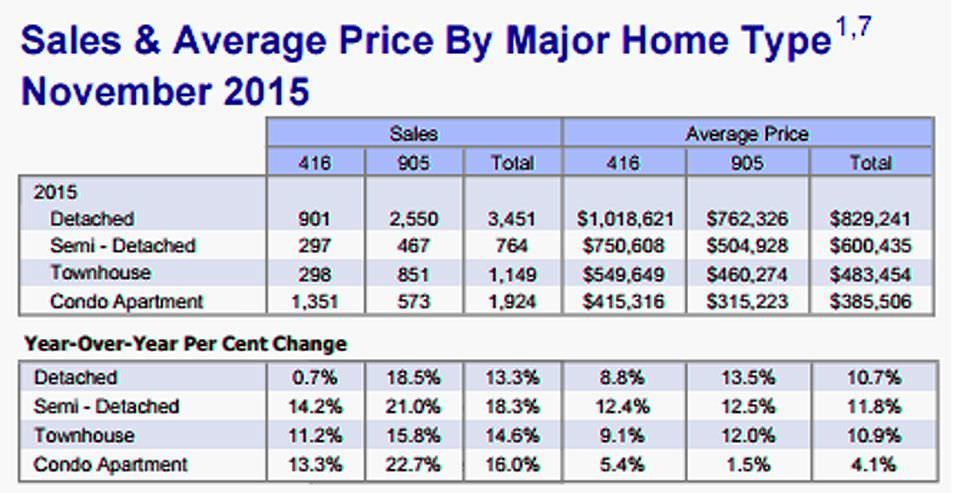 Credit: Toronto Real Estate Board
December is often an interesting month in for the Toronto real estate market–sometimes, buyers bid to get into the market right before the new year while other years they wait for the fresh listings that often arrive in January. Mr. McLean remains optimistic for December, as well as the upcoming year. With one more month to go until 2016, we've still managed to set a record in for home sales in the TREB market area for an entire calendar year (the previous record set in 2007 and reflected all 12 calendar months).
McLean believes the widespread demand for homeownership is a priority for families in the GTA and attributes it to real estate being the best long-term investment. Despite rumours of a housing crash, Toronto continues to prosper and doesn't seem to show signs of stopping. The other question remains–if there is no crash, will there be a correction? Will the market get out of control?
The federal Department of Finance wants to step in and increase the minimum down payment for a home from 5 per cent to 10 per cent. With stiffer borrowing rules, the market has a better chance of cooling without a drastic crash. An increase will also alleviate the taxpayers exposure to insured default losses and possibly boost sales in the condo market. First time home buyers who are only prepared to put a 5 per cent down payment must either wait until they have twice the amount of money they initially had or settle for a condo. While all these pros sound fantastic for markets like Toronto and Vancouver, other markets in the Country, especially cities that have already experienced losses in the housing market, will suffer. When will these proposed changed come into effect? We can expect the Federal Department of Finance to present the motion for additional 5 per cent on down payments to the Minister of Finance as early as January 2016.
With what seems to be a very small window to decide whether to toss the whole idea of buying a home, borrowers looking to put a smaller down payment on a home should seek the advice of a mortgage professional and reassess their budgets realistically. Increase or not, the New Year is the perfect time for families to analyze their finances to ensure sound decisions in the future.