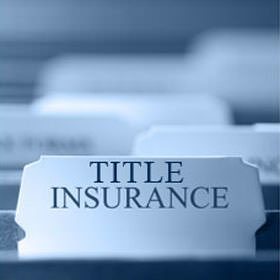 A "Title" is proof of legal ownership of real property. When ownership of a property is transferred from one person to another,  a deed or transfer document is signed giving title of the property to the new owner.  Once title has been obtained, it is registered in the government's land registration system.  Used as means of guaranteeing legal title to real property, "Title Insurance" policies have been requested by mortgage lenders and buyers in the United States for over 100 years.  Despite its commonplace in American real estate practice, several Canadians are still unfamiliar with the term.
Title Insurance protects property owners and lenders against losses that may occur due to the property's title or ownership.  Unlike other forms of insurance, Title Insurance does not insure the policy holder from accidents, death, damage, or other specific future events—It acts a legal statement concerning the title and protects the bearer against possible challenges to the correction of the statement should one occur in the future, and protects the insured from loses due to errors made to the title before the policy was issued.  In addition to these, Title Insurance covers property owners in a number of aspects, including marketability of the property.
There are two main forms of Title Insurance policies available in Ontario, an owner's policy and a lender's policy.  As their names suggest, they work in the best interest of either an owner or a lender.  If you are an owner, your insurance policy will cover you for the duration in which you own your property—like other types of insurance policies, you are covered up to a maximum amount, typically the amount of your mortgage.
The following are examples of losses that Title Insurance may protect a property owner from:
Unknown title defects (title issues that prevent you from having clear ownership of the property)
Existing liens against the property's title (e.g. the previous owner had unpaid debts from utilities, mortgages, property taxes or condominium charges secured against the property)
Encroachment issues (e.g. a structure on your property needs to be removed because it is on your neighbour's property)
Title fraud
Errors in surveys and public records (i.e. the death of an owner or misspelled names due to typographical errors)
Other title related issues that can affect your ability to sell, mortgage, or lease your property in the future
Similarly, lender's policies also offer protection against losses and also reduces the risks that are often associated in lending.  It also decreases investment risks and protects the lender until the mortgage for which the policy was obtained is fully discharged from Title.  The use of Title Insurance is becoming more common among lenders in Ontario, especially in commercial real estate as policies also protect lenders if a mortgage on a commercial property defaults.
Like financial institutions, Title Insurance companies are regulated by the federal government, through the Office of the Superintendent of Financial Institutions (OSFI).  OFSI regulates the financial aspect of title insurers and monitors premiums, performance and also determines how much an insurer must set aside from premium income in order to cover future claims.  This ensures that the company's liquidity is substantial enough to pay out should a Canadian policy holder have a claim.  Because Title Insurance practices differ between provinces, a company's market conduct is also monitored at the provincial level by an additional organization.  The Financial Services Commission of Ontario (FSCO), monitors companies located in Ontario and in accordance with the Insurance Act, ensures ethical policy content, and fair representation to consumers.
Key Advantages to Title Insurance
Ability to underwrite and insure over known property/title defects
Eliminate need for title Searches
Saves buyers disbursement fees
Can facilitate or expedite a closing
In some cases, can eliminate the need for an up-to-date survey of the property
Liability is shifted from the lawyer to Title Insurance company
LPIC transaction levy is waived when all new parties to the transaction are insured
Inexpensive when compared to risk involved
If you are preparing to purchase a home, be sure to consult your lawyer or notary regarding Title Insurance.  At a fraction of the cost of real estate in Toronto, Title Insurance not only protects against losses that can cost thousands of dollars, however, it also offers peace of mind to both buyers and lenders.
For more information on Title Insurance, visit The Financial Services Commission of Ontario